Whether you're in a rush to get a lunchbox packed or get dinner on the table, an overstuffed fridge can really slow you down. A well-organized fridge, on the other hand, can help food stay fresh longer, reduce waste and make meal prep come together with less effort. Here are some simple strategies to get your fridge in order and keep it that way.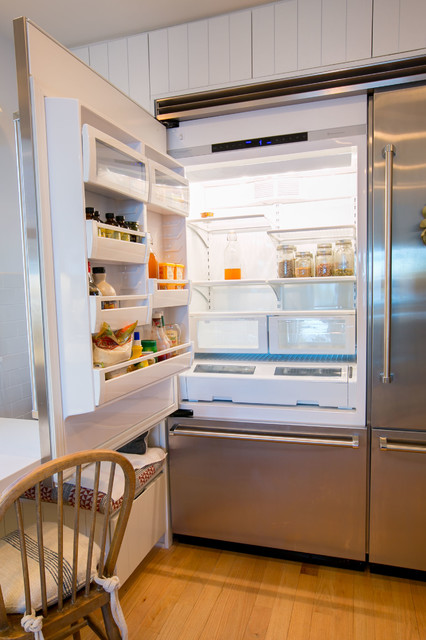 Give your fridge a fresh start. Before you go on your next trip to the market, take the time to give your fridge a thorough cleaning out. Check all those condiment bottles, the bottom of the crisper drawer and the back of the fridge, and pull out anything that is no longer fresh. Once you've done this and wiped down the shelves, drawers and door, it's time to get organized.
Use bins and trays to keep your fridge cleaner (and more user-friendly). Removable, washable plastic trays and bins make it easy to clean up when a container springs a leak — just remove the whole tray and toss it in the sink or dishwasher. Bins are great for corralling groups of items that you would like to store together.
Make it easier to keep track of leftovers. Keep a roll of masking tape and a felt-tip marker near the fridge for marking leftovers with the date, and you can tell at a glance whether something needs to be used up soon or tossed.
Organize by temperature to keep food fresh longer. The door and top shelf are the warmest parts of the fridge. The middle shelves maintain the most consistent temperature, and the bottom back stays the coldest. The drawers usually give you some additional control for humidity, which can affect how long fruits and vegetables stay fresh.
What to keep where:
Upper shelves: Leftovers, snack foods and drinks
Middle shelves: Eggs, dairy and deli meats
Bottom shelf: Raw meat and fish
Higher humidity drawer: Fresh vegetables
Lower humidity drawer: Fresh fruit
Door: Butter, soft cheeses, condiments, pasteurized juice and fresh herbs
How to prep produce: Washing produce when you get home from the market can be a great time-saver when it comes to making dinner on busy weeknights. However, since water can make fresh produce go bad more quickly, be sure to thoroughly dry all fruit and vegetables before putting them in the fridge.
Whole, washed peppers, carrots and celery can be returned to the drawer after being thoroughly dried.
Freshly washed lettuce should be dried as much as possible in a salad spinner and then gently wrapped in paper towels inside a large zip-top plastic bag or food storage container.
If you plan to chop veggies or fruit in advance, store the cut pieces in airtight food storage containers and plan to use them within a few days.
How to store fresh herbs: Ideally, we would all have pots of fresh herbs within arm's reach of our kitchen. If you do have an herb garden, aim to snip only as much as you need at one time. If you don't grow your own herbs, try these methods for keeping those bundles of store-bought herbs fresh for as long as possible.
Fresh basil and cilantro can be treated like a bouquet of fresh flowers: Snip the ends, place in a glass of water and store on your counter. This works well with most other soft, long-stemmed herbs as well (such as parsley).
Smaller bundles of herbs can be gently tucked inside a plastic bag, along with a layer of dry paper towels. Keep the whole bundle in the fridge door, where it's warmest.
What not to store in the fridge: If your fridge is overstuffed, it could be that you've been storing some items that would be better off on the counter or in a cool, dark pantry.
Bananas, avocados and any fruit that still needs ripening should be left on the counter.
Tomatoes, melon and delicate, farm-fresh berries taste best when left at room temperature and eaten within a day or two of bringing them home. But if you need them to last longer, go ahead and stash them in the fridge.
Keep oils, coffee, bread, potatoes, onions and whole heads of garlic in a cool, dark place (such as the pantry).
Make mini clear-outs part of your weekly routine. While planning what to have for dinner in the week ahead, it's natural to check for ingredients in the fridge. Use this time to straighten up the shelves and do a quick clearing out of old leftovers and items that are past their prime.
Tell us: What helps you keep your fridge organized? Share your tips and ideas in the Comments.
By: Laura Gaskill (Houzz)
Photo Credit:
Lopiccolo Construction, original photo on Houzz
Related Links:
Keep Shelves Stocked and Organized
Designer Kitchen Ideas to Stay Organized
Weekend Project: Deep Clean Your Fridge, Inside and Out
Houzz is the leading platform for home remodeling and design, providing people with everything they need to improve their homes from start to finish. From decorating a room to building a custom home, Houzz connects millions of homeowners, home design enthusiasts and home improvement professionals across the country and around the world.